SCROLL DOWN TO SEE THE FLOOR PLAN AND ELEVATIONS.
The SOLARHOME 170T is a single-level, 3 bedroom, 1½ bathroom timber-framed house with a total footprint of 170 m². It is designed and detailed to be as affordable, durable, and energy-efficient as possible, making it ideal for off-grid situations. Highly insulated walls, floor, and ceiling (R5 minimum) ensure it is thermally comfortable throughout the year in all climates. The elevated floor supported by steel posts makes it suitable for level, sloping, undulating, or poorly drained sites without requiring extensive earthworks. The simple floorplan and construction details ensure that the house is economically and easily buildable just about anywhere in the world using standard materials and conventional construction techniques. The number of trades required is kept to a minimum so that the large majority of work can be carried out by a small team of carpenters.
The complete set of fully-detailed construction drawings available on this website for $14,000 (comprising 25 pages to scale at A3 size) can be given to local builders for accurate competitive quotes. The drawings come with full technical support leading up to and during construction, plus a full materials order list (including PC items such as built-in appliances, tiles, and floor finishes) and labour cost estimate in Excel format so that builders can quickly and easily make their own adjustments to prices in order to prepare their quote. As of late 2021, the build estimate in Australia is $285,000 including an allowance of $50,000 for the off-grid power system. The drawings, as supplied, can be submitted to local authorities for building approval after adding your own site plan, engineers certificates, and other council requirements.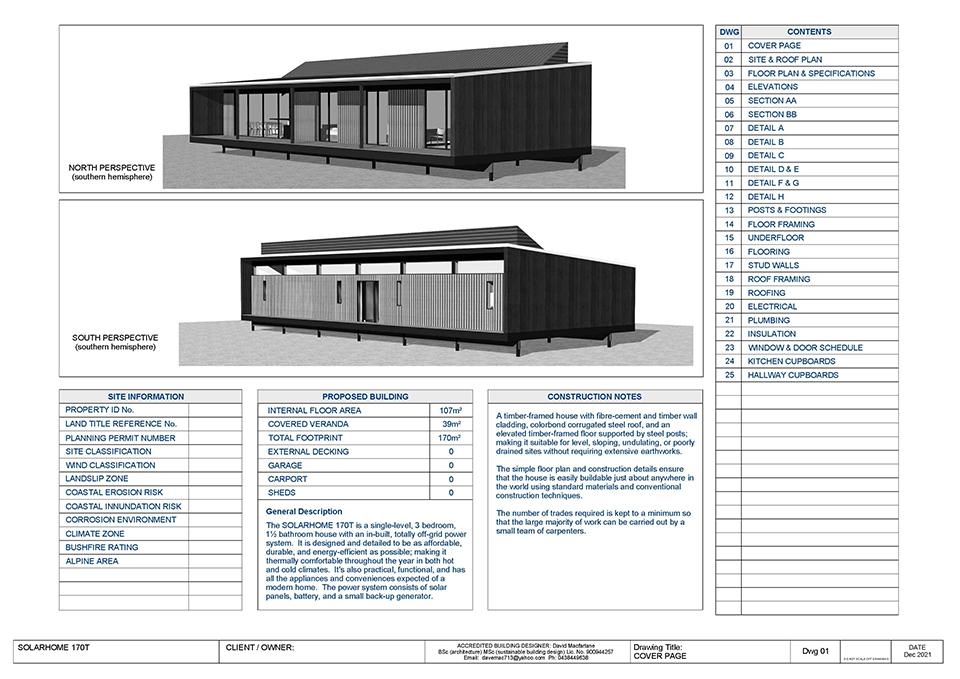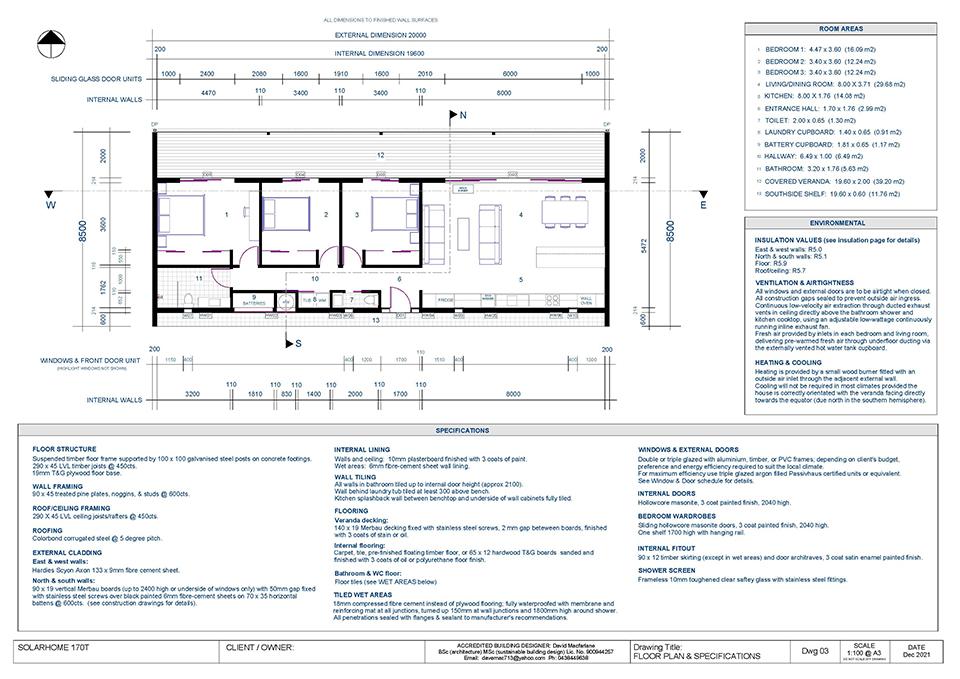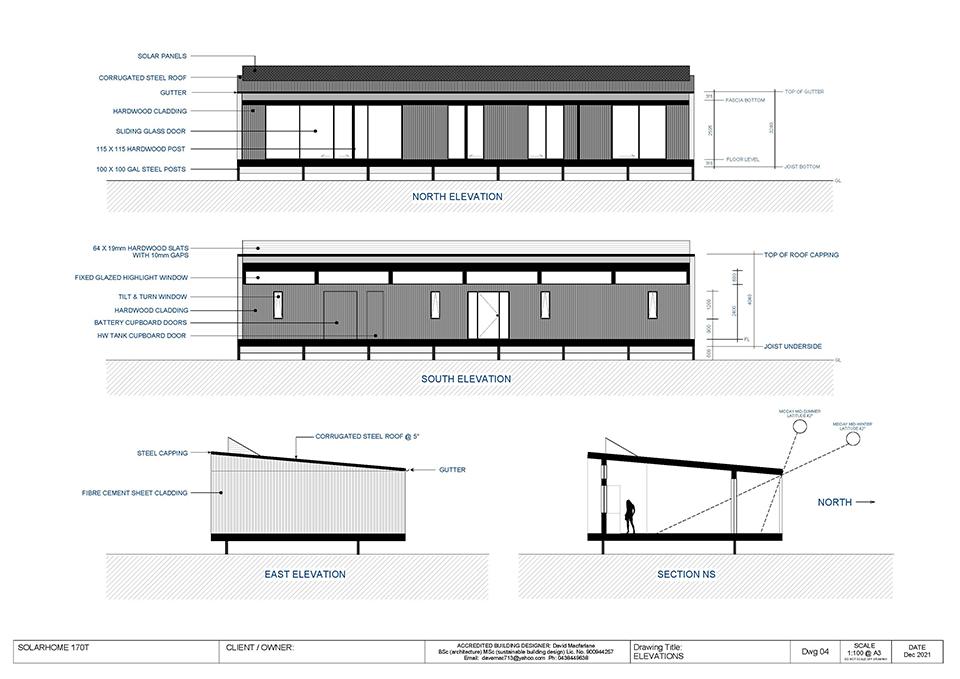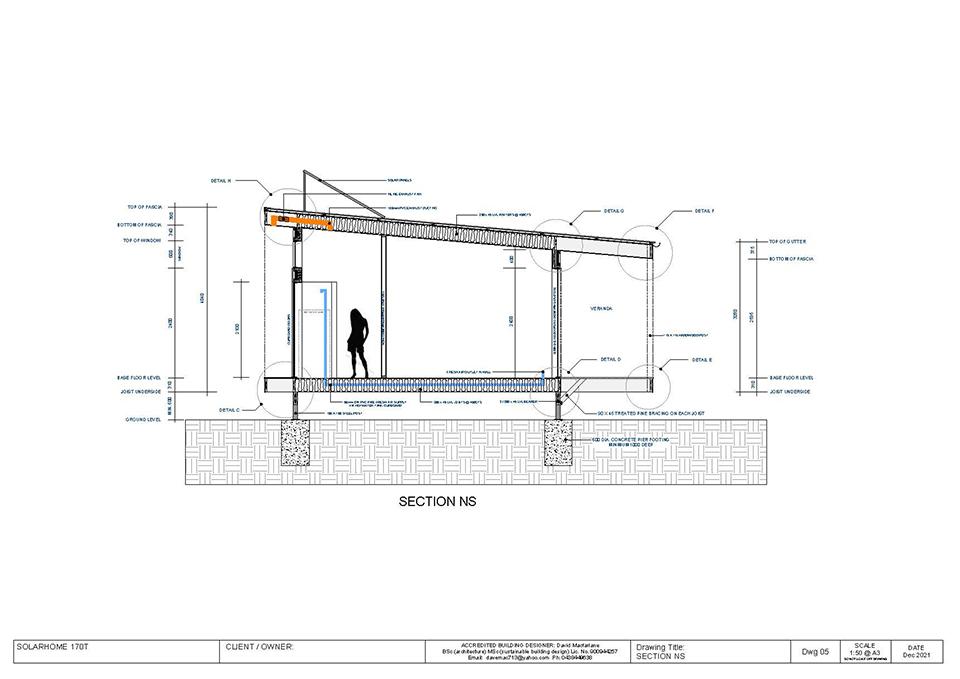 Ecoventure Pty Ltd (Australian Company Number 002169842) trading as The SOLARHOME Project, 24 Pars Rd Greens Beach Tasmania 7270 Australia